Content Support Officer (Volunteer Vacancy)
Do you want to create impact by making information easily accessible for all? Infolep & InfoNTD are looking for an enthusiastic and creative Volunteer Content Support Officer.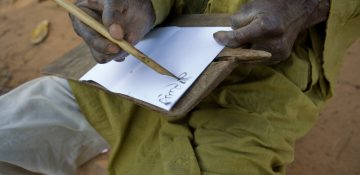 Infolep & InfoNTD are international online platforms that share information on leprosy and neglected tropical diseases (NTDs). The platforms provide access to over 35,000 (scientific) publications and practical tools and have a global reach in over 200 countries. Infolep & InfoNTD staff are housed in the International Office of NLR (until No Leprosy Remains) in Amsterdam. More information about NLR can be found below.
Infolep and InfoNTD is run by two driven staff members motivated to enable capacity strengthening for health professionals in the leprosy and NTD sector. To strengthen this team, we are looking for a Volunteer Content Support Officer for 8-16 hours a week.
As a Content Support Officer, it is your responsibility to select and share scientific publications and practical tools via the Infolep & InfoNTD platforms. Another responsibility is to share new publications and tools, news, and events via a monthly e-newsletter for which MailChimp is used. You will work in close collaboration with the Infolep & InfoNTD Information Officers.
What will you do as Content Support Officer:
The selection of relevant health related information resources
Sharing selected health related content through a content management system
Creating and sharing a monthly e-newsletter in MailChimp for scientists, programme managers, policy advisors and other health professionals
Contributing to sharing relevant information resources via social media channels
Your profile
HBO educational level
Good communication skills in English
Background in and/or affinity with the global health / NTD-sector is an advantage
Experience/interest in working with content management systems and tools, such as MailChimp, is an advantage
You are based in the Netherlands, or willing to relocate/allowed to work in the Netherlands
We offer
The opportunity to gain experience in working in an international environment and global health sector
Flexible working hours (remote / working from home is possible)
A supportive, inclusive, and friendly team to work with
The opportunity to develop content management & communication skills and learn about leprosy and other NTDs
A volunteer fee of €180, – a month
Join our team!
Please respond before Monday June 27th and send your CV to vacaturesNLR@leprastichting.nl. Your motivation should show how your background and interests fit the tasks planned for this position. For more information, please contact Roos Geutjes or Anniek Akerboom at R.Geutjes@infontd.org or A.Akerboom@infolep.org
NLR strives for equal opportunities for everyone. We encourage people with a disability to apply. Acquisition in response to this vacancy is not appreciated.
About NLR 
Working for NLR (until No Leprosy Remains), means working towards a world without leprosy and its consequences. NLR is an international NGO that has been one of the major change-makers in the fight against leprosy in the past 50 years.
Every year, 200.000 new leprosy patients are diagnosed worldwide, and millions of people live with the serious consequences of leprosy due to discrimination and exclusion. Timely detection and treatment can prevent further infection. NLR is an international NGO that aims for a world without leprosy and its consequences.
NLR is active in five countries (India, Nepal, Indonesia, Mozambique, and Brazil). Approximately 40 employees work in our international office in Amsterdam and 200 employees worldwide.
For more information visit our websites: https://nlrinternational.org and www.leprastichting.nl