International Consultant "Capacity Strengthening"
Are you the consultant with knowledge of HR- and management-instruments to help us to strengthen our technical capacity?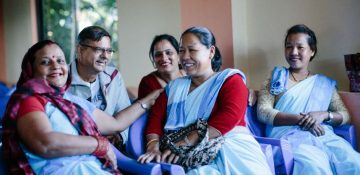 NLR is an international NGO that since 1967 has been dedicated to eliminate leprosy, a disease with more than 200,000 new patients worldwide on a yearly basis. We focus on early detection, preventive treatment to break the chain of transmission, prevention of disability, and full inclusion of persons affected by leprosy in society. We collaborate with local organizations and governments. NLR enjoys the support of many donors, partners and sponsors. Where relevant, the work is done in the broader context of neglected tropical diseases (NTDs) or other disability work.
The NLR International Office (IO) is based in Amsterdam and NLR has country offices in Brazil, India, Indonesia, Mozambique and Nepal with a total of approximately 200 staff members. About 30 staff are based in The Netherlands. The organisation is in a transition phase and will become an international alliance where the country offices will become independent NGOs and members of the NLR Alliance. This will take place in 2020.
During the transition to an NLR Alliance, it will be important to further develop and safeguard expertise in research, in the medical-technical, public health, social science field, and expertise on inclusive development and advocacy. A further reflection on the transition to an NLR Alliance is that good HR and management-conditions at organizational level are needed in order to not only build capacity, but also motivate and maintain this capacity with the abovementioned expertise in the organization. To organise this, we are looking for an:
International Consultant "Capacity Strengthening"
to assess and advice on the technical capacity within the organization
20 days total
in a period of approximately 2 to 3 months
We encourage persons with a disability to apply
The position
In this position you will:
Work with the Technical Department at NLR IO, the NLR Country Directors and current senior technical advisors in the NLR-supported countries to formulate a plan on strengthening technical capacity throughout NLR for the coming 5 years.
Coordinate a team with local HR & Organization consultants at each alliance partner, who will assess the capacity and expertise in the Country Office where they are located, including the international office.
Advice on quality standards for the required capacity of technical staff, in order to be able to cover all the needed competences.
Advice on the creation of conditions to be able to recruit, motivate, further develop and retain the right staff. This may include development of HR and management-instruments.
Advise on the budget needed to realize the plan for capacity strengthening.
Your profile
Result oriented team player.
Proven experience in management, organisation development, decentralisation processes and Human Resource-development in teams with people from different backgrounds and cultures.
Proven experience in working with International NGOs, preferably in the health sector.
Preferably a medical, public health or other relevant biomedical or social science degree.
Experience with and/or insight in staff requirements for conducting social, public health and epidemiological research.
Fluency in English both spoken and written, and preferably also in Portuguese.
Willing and able to travel internationally
What do we offer?
An assignment for 2 – 3 months, approximately 20 days.
A good working atmosphere with highly motivated colleagues, dedicated to fight leprosy.
Salary depending on relevant qualifications and experience, with a range from € 4.124,= to a maximum of € 5.761,= based on a fulltime workweek. A consultancy assignment is discussable.
Good employment conditions.
The position is based in Amsterdam. The office is situated at a walking distance from the Amsterdam Amstel railway station.
Please note that applicants with another nationality than from a Schengen country, will need to have a valid work- and residence permit for the European Union.
Interested?
Interested candidates are invited to submit an application letter and full curriculum vitae before 26 August, 2019 by email to the NLR Secretariat, c/o Ms. Linda van den Berg at vacaturesNLR@leprastichting.nl.
For further information, please contact Liesbeth Mieras (L.Mieras@nlrinternational.org).
The first round of interviews will be scheduled in week 35.
Acquisition by agencies is not appreciated.
Is this not your dream job? Please support NLR by sharing this vacancy in your network.