LRI Support Officer
NLR is looking for an analytical and hands-on LRI Support Officer.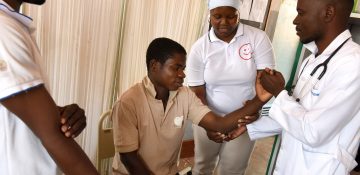 Do you want to make an impact for people who need it most?
Founded in 2013, the Leprosy Research Initiative (LRI) represents a unique model of collaboration and coordination with the aim of promoting, facilitating and funding leprosy research. Several international NGOs committed to combating leprosy have pooled financial resources in a joint fund under one policy. The LRI is managed by the director of the Leprosy Foundation.
Working at LRI means working towards a world without leprosy. A world in which leprosy no longer causes victims with serious physical and psychological consequences. Research is of great importance for pursuing a world without leprosy as a concrete and realistic goal. This requires passionate employees. Will you help us with this?
The LRI secretariat consists of three passionate employees who are committed to supporting the process of allocating funds for leprosy-related research; promoting and optimizing leprosy-related research; and developing and maintaining partnerships. The LRI secretariat is part of the Medical Technical Department of NLR . To strengthen the team we are looking for a: LRI Support Officer for 32 hours a week.
The LRI Support Officer supports the activities of the LRI Technical Officer and the LRI Program Officer in the field of the Grant Management Cycle (GMC), communication and other organizational matters.
What will you do as LRI Support Officer at the LRI?
Support the planning, preparation and meetings of the LRI committees
Support and facilitate the organization and implementation of workshops, training courses, the annual LRI spring meeting, and the five-yearly external audits.
Maintain the online Grant Management Portal:

Support users of the portal and identifies bottlenecks and points for improvement
Prepare the Grant Management Cycle steps regarding submissions, reviews and progress reports

Support in communication towards grant applicants and external reviewers during the selection process
Prepare the annual overview with the results of the LRI financing round
Prepare summaries, substantive reports and also the lay summaries on funded studies for funders
Manage the overview of the publications of LRI-funded research
Execute the LRI communication plan together with the LRI Programme Officer; identifies and acts on profiling opportunities and writes content for the website and disseminates information
We offer
A challenging position within an international organization that is a major funder of leprosy research and has a growing role in the implementation of the global research agenda;
A team of professional colleagues, each of whom wants to contribute to leprosy control from their own discipline;
A salary, depending on knowledge and experience, between €2,705 and €3,307 gross per month based on a full-time contract (38 hours is full-time);
8% holiday allowance and 4% year-end bonus on an annual basis;
Good secondary employment conditions (including a pension scheme);
Initially an annual contract with a possible extension;
Room for personal development;
Working from home is (partially) possible at NLR.
Join our team!
Please respond before the 27th of September and send your CV and motivation to vacaturesNLR@leprastichting.nl. The first interview is scheduled for Monday the 4th of October via Microsoft Teams or Zoom. The second interview is scheduled for Friday the 8th of October.
For more information, please contact Nienke Veldhuijzen via n.veldhuijzen@leprosyresearch.org . NLR strives for equal opportunities for everyone. We encourage people with a disability to apply. Strong preference will be given to candidates who are based in the Netherlands – or willing to relocate – and who have permission to work in the country. Acquisition in response to this vacancy is not appreciated.
About NLR
NLR wants to end the age-old disease leprosy once and for all. Still every year 200.000 new leprosy patients are diagnosed worldwide and millions of people live with the serious consequences of leprosy due to discrimination and exclusion. Unnecessary, because timely detection and treatment can prevent further infection. NLR is an international NGO that aims for a world without leprosy and its consequences. In our strategy we focus on Zero Transmission, Zero Disability and Zero Exclusion.
NLR is a strong believer in collaboration. NGOs with the same mission in Brazil, Indonesia, India, Nepal and Mozambique are part of the NLR Alliance and are supported by our international office based in Amsterdam. As an active partner in international networks such as the Global Partnership for Zero Leprosy and the International Federation of Anti-Leprosy Associations (ILEP), together we make a significant impact towards our mission. NLR is a global forerunner in conducting and promoting leprosy research and driving evidence-based innovation.
About 40 people work in our international office in Amsterdam and 200 total globally. NLR, in the Netherlands better known as Leprastichting, is an ANBI with CBF recognition and is supported by 45,000 donors and leading institutional donors including the Nationale Postcode Loterij.
For more information visit our websites: www.leprastichting.nl, www.nlrinternational.org and www.leprosyresearch.org.