Partnership Development Officer (32-38 hours)
At NLR we are dedicated to working towards a world without leprosy. Every year over 200,000 people are diagnosed with leprosy worldwide. NLR – until No Leprosy Remains, in the Netherlands better known as Leprastichting, is an international NGO that aims for a world without leprosy and its consequences. In our strategy we focus on Zero Transmission, Zero Disability and Zero Exclusion.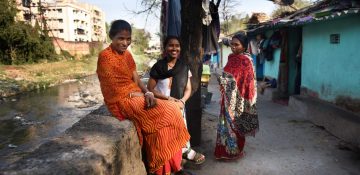 NLR is a strong believer in collaboration. NGOs with the same mission in Brazil, Indonesia, India, Nepal and Mozambique are part of the NLR Alliance and are supported by our international office based in Amsterdam. As an active partner in international networks such as the Global Partnership for Zero Leprosy and the International Federation of Anti-Leprosy Associations (ILEP), together we make a significant impact towards our mission.
We would not be able to do this work without the financial support from our institutional donors. To strengthen these ties, NLR is looking for an enthusiastic and result-oriented Partnership Development Officer.
Partnership Development Officer (32-38 hours)
As Partnership Development Officer at NLR, you closely work with colleagues to set up partnerships with foundations, NGOs, bilateral and multilateral organisations and build fundraising capacity. With your result-oriented attitude and cultural sensitivity, you support efforts to increase institutional funding across the NLR Alliance.
You are based at the international office in Amsterdam and are part of our dedicated Institutional Fundraising Unit, within the Programme Department, with ambitious fundraising goals. You report to the Senior Partnership Development Officer.
Tasks and Responsibilities
Identify potential donors, build partnerships and develop proposals (75%)
Identify prospects and take the necessary steps to contact them and cultivate the relationship;
Think in opportunities while pinpointing and contacting potential consortium partners;
Play a key role in initiating, building and coordinating new partnerships leading to concrete fundraising results;
Support colleagues to develop business cases for future funding;
Set up and coordinate project teams during the proposal development stage;
Develop high quality project proposals for foundations, governments, multilaterals and other organisations, together with NLR colleagues;
Actively network, and maintain your network, with relevant organisations and institutions;
Track calls for proposals and other opportunities, judge the relevancy and share applicable ones;
Encourage colleagues from the international office in their institutional fundraising efforts.
Support colleagues from Alliance members in partnership building and fundraising efforts, and carry out other relevant partnership activities (25%)
Provide customised support to colleagues within NLR Alliance, mainly with regards to donor cultivation, alliance building and proposal development;
Help Alliance members to gather relevant input for international partnership opportunities;
Provide management and other colleagues with timely and correct information for quality assurance and communication purposes;
Keep colleagues up to date on relevant developments in institutional fundraising and translate these into actions for NLR;
Actively contribute to partnership development strategy and planning of international office.
Your profile
You have a bachelor's or master's degree in a relevant discipline;
You have several years of experience, and proven successful results, in institutional fundraising/partnership development;
As well as being fluent in Dutch and English, you also preferably have working knowledge of Portuguese;
You proactively translate ideas into action and enjoy bringing the right people together to reach successful fundraising results;
Your hands-on attitude wants to get things done;
When the pressure is on, you know how to keep your head cool and you remain accurate in your work;
You enjoy sharing fundraising knowledge and experience in order to encourage the development of new fundraising ideas;
Cultural sensitivity comes as second nature to you.
We offer
This is the opportunity to work within a highly motivated international team with an outstanding global track record in the world of leprosy. About 180 colleagues work in Mozambique, India, Indonesia, Nepal and Brazil and another 40 are based in Amsterdam. There is lots of space for your own initiative. Our international office is located within short walking distance from Amsterdam Amstel Station. Additionally, we offer the following:
Gross monthly salary between €3,477 and €4,870 (based on 38 hours/week);
4% year-end bonus and 8% holiday bonus;
25 days annual leave a year + 5 days extra leave;
Travel allowance;
Contract for one year with possible extension;
Laptop;
Flexibility in working hours and working from home;
Contribution of nearly 60% towards your pension fund.
Think in opportunities
Send your motivation letter and CV by 17 January at the latest to vacaturesNLR@leprastichting.nl.
For enquiries regarding this position, please call Lesley White, Sr Partnership Development Officer, on +31 6 21364771.
The first interview will take place online on 20 January. If you are unavailable on this date, please mention this in your application stating an alternative date.
The second interview will take place on 26 January. The same applies here if unavailable.
NLR strives for equal opportunities for everyone. We encourage people with a disability to apply.