Embassy of the Netherlands in Brazil receives NLR staff
The meeting provided the first dialogue on partnerships to expand actions on prevention and treatment of leprosy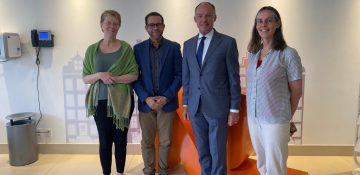 Staff of the international office of NLR were received by the Ambassador of the Netherlands in Brazil, André Driessen, to share information on the fight against leprosy in the country. At the meeting, which took place at the embassy's office in Brasilia, the organization's main initiatives were presented to establish strategic partnerships to expand disease prevention and treatment actions at the national and global levels.
The meeting was marked by the cordiality and interest of the Ambassador in the reality of countries facing high cases of leprosy, as well as the Second Secretary of Political Affairs, Public Diplomacy and Culture, Burak Çevik. Throughout the meeting, the social work that has been developed by the embassy was presented, in addition to discussing the approaches and capacity of NLR and NHR Brasil to generate impacts for epidemiological control of the disease.
Alexandre Menezes, NHR Brasil national director, highlighted challenges such as the availability of medicines and the importance of having partners such as the embassy to support initiatives with the government and health agencies.
"We feel the Ambassador's enthusiasm for our projects, especially in the area of Zero Exclusion, which includes the Socioeconomic Rehabilitation project for people affected by leprosy. We believe that this axis seems very promising for possible participation and support of the Embassy in the future.", highlights Alexandre. 
Dutch Backgrounds
Acting in several leprosy-endemic countries, the origin of NLR, formerly known known as Netherlands Leprosy Relief (Leprastichting in Dutch), dates back to the 60s, when Ciska Anten and Dick Leiker had the initiative to create an organization that could support leprosy patients in Tanzania and raises awareness of the disease around the world. In Brazil, the organisation began supporting leprosy projects in 1994, and, in 2011, this support was made official with the creation of NHR Brasil (Netherlands Hanseniasis Relief Brasil), working as an office representing the Dutch NGO in the country.
As mentioned by Liesbeth Mieras, doctor and technical consultant at NLR, the Dutch people are recognized for their generosity and appreciation for human rights, and this is reflected in their commitment to support the fight against leprosy around the world, including Brazil. 
"We have a long history of efforts against leprosy that could not be realized without the important collaboration of governments and organizations. Therefore, it is essential that we can join forces focused on this great challenge: a world free from leprosy and its consequences", said Mieras.