Fashion show of jewelry made by persons affected in Brazil
Biojewels produced by artisans from NHR Brazil's Socioeconomic Rehabilitation project were the main attraction at a fashion show promoted at Porto Velho Shopping.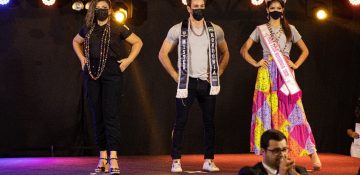 The jewels were made of natural materials from the Northern Region of Brazil and had the main spot on a special night of celebration for many people involved in the project. A team of models volunteered to showcase the jewels: health managers and health workers in Rondônia, people representing the Brazilian Ministry of Health, NHR Brazil and professionals from many areas that work and dedicate to leprosy in at municipal, state and national level. The fashion show was attended by Miss Universe Rondônia 2021, Thaise Dias, by Miss Teen Rondônia 2020, Letícia Vitória, and by Mister Rondônia CNB 2021, Naraiel Ferrari. Their participation was articulated by the Movement for Reintegration of People Affected by Hansen's Disease (Morhan).