Group meetings The Neglected Tropical Disease NGO Network (NNN)
In April 2020 NLR was involved in two working group meetings organised by The Neglected Tropical Diseases (NTDs) NGO Network (NNN): the NNN Skin NTD cross-cutting group and the NNN Disease Management, Disability & Inclusion (DMDI) cross-cutting group.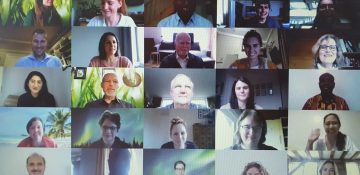 The Skin NTD cross-cutting group meeting was originally planned to take place in Amsterdam, the Netherlands, hosted by NLR. Due to COVID-19 it was turned into an online meeting, chaired by Claire Fuller and attended by 49 participants, with representation from across the globe. Presentations and discussions during the meeting highlighted the importance of an integrated approach. Several interesting examples were presented, such as integrated disease mapping, by Kedebe Deribe; the WHO Skin NTD manual by Jose Ruiz Postigo; Wound Care training packages by Yves Thierry Barogui and the SkinApp by Benita Jansen. The group will work on inventory of available guides/aids/tools on skin diseases to allow the development of a consolidated training document and tools that can be universally.
The DMDI cross-cutting group conducted its annual 3-day Spring meeting for the first time online. The meeting was chaired by Wim van Brakel and had up to 56 participants in attendance with a geographic spread from California to New Zealand. A special feature was the participation of representatives from 3 different WHO departments: NTDs, Mental Health and Rehabilitation. Over the 12 hours of meetings, part of which was spent in separate working groups, we discussed topics across the DMDI spectrum: care of persons with disabilities through wound care and assistive devices, ways to address stigma and improve mental wellbeing of persons affected and their families and improving the participation of persons affected by NTDs in meetings and NTD programming. The DMDI working groups also spent time preparing for several workshops to be held during the annual NNN meetings in September 2020.