Increased local support for persons affected by leprosy in India during corona crisis
NLR India is stepping up partnerships with local companies and foundations. After a long line of new corporate partnerships in support of persons affected by leprosy, corporates and trusts are turning to support persons affected by leprosy who are being hit extra hard by the corona crisis. Recently, Centre for India Progressing (CIP), SNJ Charitable Trust, IRS Gurugram and St' Peter Church joined NLR India to reach out to 300 families affected by leprosy across seven leprosy colonies in New Delhi and Bihar.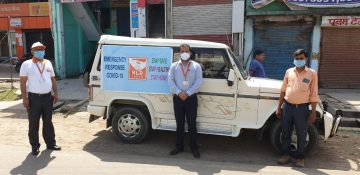 NLR staff has observed that around 130 families in two leprosy colonies in New Dehli were in dire need of hygiene and essential kits. With COVID-19 outbreak and lockdown, the family income had become almost zero. The ration, which was in stock, had also finished. They were also finding it difficult to practice the required hygiene for warding off Corona virus with no resources even to purchase soap. The most important challenge for them currently was obtaining food for day-to-day survival. Government support had reached out to some locations but these leprosy colonies still waited for help from any source.
Support during the crisis
Due to this support, NLR India together with the colony leaders could distribute many food and hygiene essential kits in the leprosy colonies. They used these events strategically and managed to conduct additional training on hand washing and use of facemasks, to help the people keep healthy and safe during the crisis.