NHR Brasil's Socioeconomic Rehabilitation project
In 2017 NHR Brasil collaborated with the Health Surveillance Agency from the State of Rondônia (Brazil) to create the Socioeconomic Rehabilitation project. The Socioeconomic Rehabilitation project was originated as a part of self-care groups for persons affected by leprosy (Hansen's disease).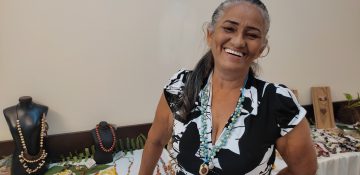 The aim of this project is to foster social and economic opportunities for people who have been diagnosed with Hansesn's disease by giving them opportunities to pursue different employment opportunities and meet other people affected by Hansen's.
The people who take part in the Socioeconomic Rehabilitation project come from self-care groups and are often in the position when they want to talk to other Hansen's patients about their experiences. The social aspect of the project and being able to interact with people with similar worries is just as important to the participants as the economic aspect.
This project has two areas of activity: gastronomy and art crafts. In both of these areas, the Socioeconomic Rehabilitation project prioritises sustainability. All of the materials used in gastronomy and art crafts activities are those that they have available in the Amazon religion.
Currently, the biojewellery is the main focus of the Socioeconomic Rehabilitation project because the sale of the products goes just beyond the region of Rondônia, but this would not be possible with the products of gastronomy. There is great interest in the biojewellery produced in Rondônia outside the region, and even internationally.
Because of the stigma that exists against Hansen's disease, some of the participants lost their jobs when their employers found out about their diagnosis. David Medina, Communications manager for NHR Brasil says that "It is important for them to see that they still have potential and that they can live a normal life – they can learn, they can work and they can do amazing jobs."
The COVID-19 pandemic interrupted some of the progress the Socioeconomic Rehabilitation project was having by preventing in-person gatherings and workshops. There were online workshops, but many of the project participants do not live in areas with good internet access. Medina says that now we are past the peak of the pandemic, he hopes that there will be more opportunities for the project participants to come together to collaborate and exhibit their work.
Recently, the project held its first biojewellery workshop in person since the pandemic. The week-long workshop in Porto Velho, the largest city in Rondônia was attended by 25-30 participants with varying levels of experience in producing biojewellery.
"For me, it was overwhelming to be there and be involved with them", says David. "We can see the energy of each one of them and you can see how important it is for them to be there and focus on their jobs."