NLR India Foundation signed Alliance Agreement
Ms Nirmala Gupta, Chair of the Board of Trustees, signed the Alliance Agreement on behalf of NLR India Foundation.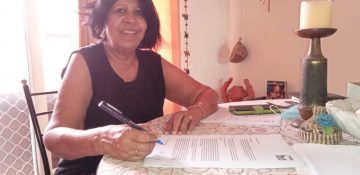 NLR India is the third national NGO, after NLR Nepal and NLR Indonesia, that steps into the 2 year transition period, in which NLR hands over full control of programmes, staff and funding to this local NGO.
The registrations of the national NGO's fall under the governance of national boards with the aim of securing the sustainability of programmes, as we foresee our work will remain important and needed for many years ahead. NLR is delighted and encouraged that very competent and inspiring volunteers took up the important responsibilities as board members of the new nationally registered NGOs.
We wish them a succesful future as an important member of the NLR Alliance! We intend the full NLR Alliance to include also NHR Brasil and NLR Mozambique and expect to celebrate this moment in 2021.