NLR Nepal signed first collaboration agreement with NLR
An exciting and memorable moment in the history of NLR: in December 2021 NLR Nepal completed the transition process in full and signed the first collaboration agreement with NLR in our Alliance!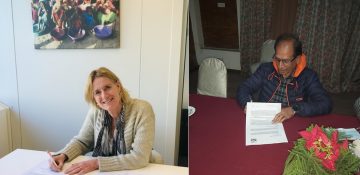 NLR Nepal is the first national NGO that is now performing all its activities, as per January 1st 2022, as national NGO with its own board and registration independent from NLR in the Netherlands. As the chair of the board of NLR Nepal, Mr Prakash Wagle formulates it: 'we are independent, but at the same time I'd like to think of the NLR Alliance as interdependent NGOs working together towards the same goal. After the thorough preparations in the five years behind us, this is a great step for all of us and I am very happy to be part of it!'
NLR Indonesia and NLR India are currently going through the same final audit phase in which they are closely cooperating with NLR (international office) every step of the way. NLR Indonesia and NLR India expect to end their transition phase and start their phase as autonomous national NGOs during the course of 2022.