PEP4LEP consortium is solving piece of the puzzle to stop leprosy transmission
The PEP4LEP research project is officially launched in Mozambique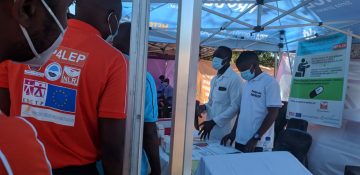 On Tuesday September 14th 2021 NLR organized the launch of the PEP4LEP research project on implementing leprosy prevention methods in Mogovolas district in Nampula province, Mozambique. The Provincial Governor's representative Dr. Rodrigues Artur Ussene and the PEP4LEP implementing parties – NLR, Lúrio University and the Ministry of Health – witnessed the first hand out of a, for Mozambique, new preventive medicine for contacts of leprosy patients. This medicine is proven to contribute to the interruption of leprosy, a disease which can have devastating effects. The project is funded by the European & Developing Countries Clinical Trials Partnership (EDCTP),[1] supported by the European Union, and by the Leprosy Research Initiative.
Leprosy is an infectious disease, mainly affecting the skin, nerves and eyes. The first symptom of leprosy is often the occurrence of skin patches with decreased sensation. When not detected and treated in time, the disease can lead to disabilities, stigma and discrimination. Actively searching for leprosy patients and treating the disease at an early stage is important to stop transmission. Last week, the World Health Organization reported that a 37% reduction in global new leprosy cases was seen compared with 2019. This change is thought to be caused by decreased detection and reporting due to the COVID-19 pandemic. Innovative and intensified methods are urgently needed for leprosy control.
A single dose of the antibiotic rifampicin has been proven to reduce the risk of developing leprosy by nearly 60% when administered to contacts of leprosy patients. The WHO incorporated this preventive treatment in their guidelines since 2018. However, little is known about the best implementation method, especially when focusing on the sub-Sahara African context.
PEP4LEP project
PEP4LEP is a research project that aims to identify the best approach for screening people at risk of developing leprosy and administering preventive treatment in Mozambique, Ethiopia, and Tanzania. During this randomized implementation trial, two methods are compared. The first method is community based in which 'skin camps' are set up to screen around 100 community members who live in the surroundings of a leprosy patient. The second implementation method focuses on health facilities, with household contacts of a leprosy patient being invited to receive skin screening. All eligible contacts of leprosy patients in this project will be offered rifampicin to hopefully prevent them from developing and spreading leprosy.
Participants in the PEP4LEP study are not only screened for leprosy, but also for other skin diseases and neglected tropical diseases (NTDs) affecting the skin. This integrated screening approach is an evidence based and WHO supported method for leprosy detection. It is thought to make people less reluctant to visit leprosy interventions, taking the stigma around leprosy into account.
The PEP4LEP project aims to provide policymakers with relevant information on the effectiveness of the two methods for improved leprosy control. It will also explore community acceptability, cost-effectiveness and health workers' capacity in detecting leprosy and other skin diseases. In Mozambique, PEP4LEP is a collaboration between NLR, Lúrio University & the Ministry of Health.
30,000 people screened and treated
In all three PEP4LEP research countries, a total of 30,000 contacts of leprosy patients will be screened for skin diseases and treated preventively for leprosy. About 90 percent of the participants will be screened in a community-based setting and 10 percent via health centers. In Mozambique, an expected total of 10,000 people will receive a single dose of rifampicin.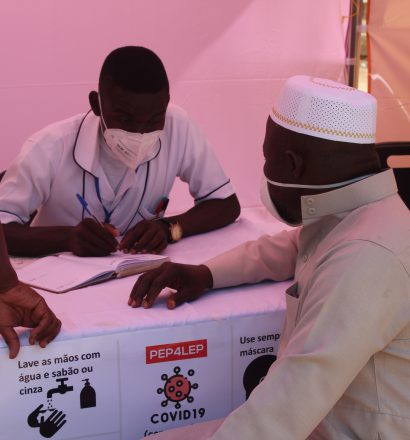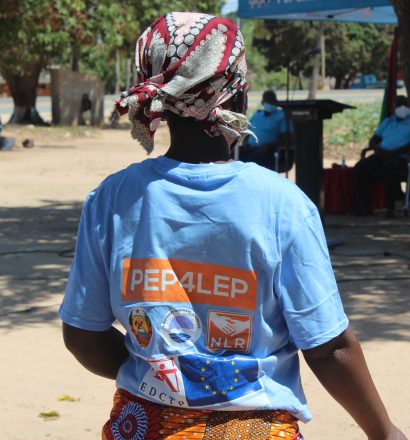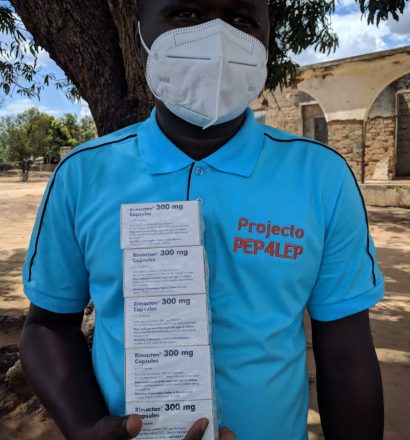 About NLR | until No Leprosy Remains
NLR is an international NGO that has been one of the major change-makers in the fight against leprosy in the past 50 years. NLR focuses on research and drives evidence-based innovations to achieve zero transmission, zero disability and zero discrimination due to leprosy. NLR has offices in some of the most leprosy-endemic countries: India, Brazil, Indonesia, Mozambique and Nepal, and an international office in the Netherlands. A worldwide total of 200 staff members work together to achieve Zero Leprosy. We continue our efforts until No Leprosy Remains. Find out more: www.nlrinternational.org/pep4lep
[1] EDCTP2 programme, grant number RIA2017NIM-1839-PEP4LEP, www.edctp.org