Propelling Performance with Partnerships
Cooperation is the basis of our work. NLR's mission to stop the transmission of leprosy can only be done in partnership with others. The recently awarded joint project on mapping methods of clustering leprosy case data shows clearly this way of working in practice.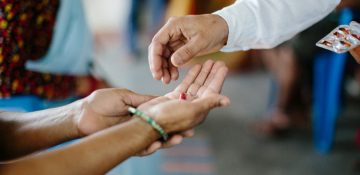 NLR and NLR Nepal team up with AIM Initiative/ALM to map people with leprosy in Nepal to make SDR-PEP implementation and new case detection initiatives more effective. A useful best practice will be developed with tools, protocols and flow charts which will be available to, and used globally by, ministries of health's Leprosy Programme Managers and NGOs when implementing SDR-PEP. Additionally, tools for data management, data collection and data analysis will be shared to help others carry out mapping themselves.
NLR is responsible for the project in Nepal and will support the development of trainings, reports and best practices as well as data analyse. NLR Nepal is responsible for the implementation of the activities in Nepal. Other tasks include collection of mapping data and the organisation of focus group discussions and trainings.
Similar mapping methods are taking place simultaneously in Myanmar and Tanzania. Besides NLR and NLR Nepal, the other implementing partners are American Leprosy Missions (ALM), Myanmar Ministry of Health, Tanzania Ministry of Health, Nepal Ministry of Health, German Leprosy Relief Association (GLRA), Emory University, Rollins School of Public Health.
COR-NTD fund this new initiative thanks to UK Aid, through the UK Department for International Development. The aim of COR-NTD is to create new synergies within the operational research arena for NTDs and align that research with specific program needs.
Would you also like to partner with NLR, please contact Lesley White (l.white@nlrinternational.org) for more information.