Testing an App supported delivery system for preventive treatment services
Earlier this year, NLR India received funding to develop an easy-to-use app for listing contacts of persons affected by leprosy.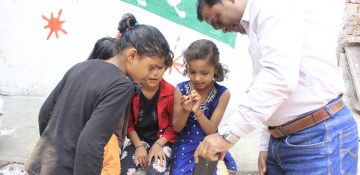 NLR India proposes to develop a mobile App to assist health care providers, primarily the field workers, for whom the App will be an easy to use tool for listing of contacts compared to paper work. The App will provide a module for screening contacts based on multiple criteria instead of using their memory for using the criteria, and will readily provide the list of contacts eligible for SDR PEP and for referral for further examination and treatment for diseases like Leprosy and Tuberculosis. Before developing the App, NLR India will conduct a qualitative exploratory study, including key informant interviews and focus group discussions, to find out the reasons for the current low SDR PEP implementation. The study will be conducted in two districts of West Bengal. Participants will be the staff involved in delivery of SDR-PEP namely the Accredited Social Health Activist (ASHA), Auxiliary Nurse Midwife (ANM) and the Medical Officer of the local health facility/ primary health centre (PHC).
This information will be used for designing the App and assessing the effect of using the App for a year. If found effective, NLR India will assist the Government in scaling-up the implementation of the App supported SDR PEP program in other districts and states of India. Find out more about the project funded by the Leprosy Research Initiative.