Member of the Supervisory Board focus area International health and disease control programmes
"Together we take a step every day towards a world without leprosy"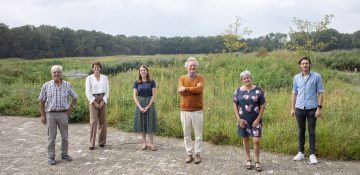 At NLR, in the Netherlands known as Leprastichting, we work with great energy and enthusiasm towards our dream: a world without leprosy. Leprosy is a disease that can be prevented and cured.  However 200,000 people are infected with leprosy each year. Especially in the poor parts of the world. To break the chain of infection, NLR is committed to the early detection and (preventive) treatment of patients and their loved ones. We also fund scientific research.
The organisation is currently changing from a Dutch headquarter with country offices to an alliance of independent NGOs. About 40 staff work in Amsterdam and 200 in total in Mozambique, India, Indonesia, Nepal and Brazil.
NLR is regulated by the quality mark for General Benefit Organizations (ANBI) and the Netherlands Fundraising Regulator (CBF). We are supported by 45,000 donors and leading institutional donors, including the Dutch Postcode Lottery. Annual revenues are € 10 million.
We are looking for a suitable candidate for a vacancy in our Supervisory Board:
Member of the Supervisory Board focus area International health and disease control programmes
Also member of the Technical Committee
General competences of the Supervisory Board members
Endorse the objectives and vision of NLR;
Affinity with international cooperation and with charitable organisations;
Experience supervising an international civil society organisation;
Ability to test the policy and functioning of a foundation;
High level of integrity, a sense of responsibility and an independent point of view;
General managerial qualities and experience;
Willing to make sufficient time available;
Preferably living in the Netherlands (for meeting attendance).
Your profile:
Knowledge of international public health development (specifically NTDs or for example HIV/Aids, malaria, TB) both in terms of policy and implementation. Experience in leprosy control programmes is an advantage;
Experience in implementing health programmes in countries where NLR is operating;
Experience in influencing policy and operating in an international context;
Experience with organisational change is an advantage;
Priority is given to candidates originating from one of the countries where NLR operates.
The Supervisory Board monitors the director and her policies. The Supervisory Board also monitors the general course of events in the organization. The meetings of the Supervisory Board are held at least four times a year, usually on Friday afternoons at the office of de Leprastichting in Amsterdam. In addition, the Supervisory Board meets at least once  year to discuss strategic developments.
For this position, please note the following:
The work takes approximately one part of a day per month;
The work of the Supervisory Board is unpaid, expenses incurred in performing the position are reimbursed;
The appointment is for a period of 4 years and can be extended once for the same period.
The Supervisory Board strives for diversity in its composition. We would like to expressly invite candidates who can fulfill the Supervisory Board role from within the context of (one of the) countries where NLR operates, to apply.
For further information about the position, please contact Linda Hummel, CEO, who can be reached by telephone 06-1886 3992. We would like to receive your application before 31 January 2023 at  the email address of the board secretariat: c.blekemolen@leprastichting.nl. For more information, please visit our websites: www.leprastichting.nl and www.nlrinternational.org