Vacancy: Head of Programmes, Research & Partnerships
NLR is looking for an inspiring, strategic, and result-oriented Head of Programmes, Research and Partnerships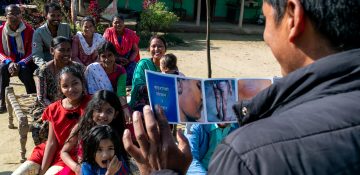 Do you want to make an impact for people who need it most?
Working at NLR means working towards a world without leprosy. A world in which leprosy no longer causes victims with serious physical and psychological consequences. Because international leprosy control has proven to be effective. Effective through the successful treatment of leprosy patients. Effective by preventive treatment of close contacts so that further contamination is prevented. Effective through informing and training of health professionals and (ex) leprosy patients, so that handicaps, discrimination, and exclusion are no longer necessary.
A world without leprosy is therefore a concrete and realistic goal. We want to achieve this by 2040 and this requires (financial) resources and enthusiastic employees. Do you want to put your shoulders to the wheel to realize this achievable goal? Are you a people-oriented manager with experience in international collaboration and inspiring and managing a team of enthusiastic professionals? Then apply for this challenging position at the international office of NLR in the heart of Amsterdam!
NLR has offices in Mozambique, India, Indonesia, Nepal, and Brazil, but is currently in an organizational transition to become an international alliance of independent NGOs: the NLR Alliance. At the Amsterdam office, the programmes and medical technical departments were merged this year into the Programmes, Research & Partnerships department. The merger reflects the intensive collaboration that already existed and the changing role of the Dutch office within the NLR alliance. To lead this new department and steer this change in the right direction, we are immediately looking for an inspiring, strategic, and result-oriented:
Head of Programmes, Research & Partnerships
The Programmes, Research & Partnerships department consists of 15 passionate employees. The department is divided into the following 3 clusters, each managed by a coordinator:
Alliance & Partnerships
Research and advocacy
Institutional fundraising & project proposal development
What will you do as Head of Programmes, Research & Partnerships Department
You will direct, coach, and motivate the employees; draw up clear frameworks; make concrete agreements about results and quality with team members; ensure a clear division of roles and tasks within the department and stimulate mutual cooperation.
You are a member of the management team and jointly responsible for the organization-wide strategy, organizational development, and culture. You are also a sparring partner for the Executive Director.
You develop department policy in collaboration with the department with regard to programmes, research, innovation, knowledge development, alliance formation, influencing policy and institutional fundraising, and you translate this into clear frameworks for (multi-)annual plans, budgets, and objectives.
You guide the department in the implementation of plans and projects, direct the work of the employees on quality and impact, monitor progress towards set goals and adjust where necessary.
You develop and oversee the alliance-wide learning trajectory and you determine the frameworks for reviews and evaluations of themed programmes and country programmes. In addition, you oversee the monitoring and progress of the set goals and performance indicators.
You oversee and supervise the decentralization process and the alliance formation, and you coordinate with the MT about the necessary changes in the international office.
You oversee the development and implementation of the alliance-wide multi-year strategy, and you manage results and impact on the three zeros (Zero Transmission, Zero Disability & Zero Exclusion) on the basis of the central Planning, Monitoring, Evaluation and Learning cycle (PMEL).
You build and maintain a broad network with strategic partners and donors, and you represent the organization to external organizations and partnerships.
Your profile
University working and thinking level
A strategic thinker and experienced people manager who can inspire and motivate professionals and has an affinity with operational work processes
Demonstrable work experience (minimum 10 years) in a comparable position
A strategic networker with thorough knowledge and network of international cooperation and demonstrable experience with strategic policy influencing and lobbying and advocacy
Demonstrable network in the development cooperation sector
Good understanding of the Dutch and English language in word and writing
Strong international communication skills
Knowledge and experience in partner countries is an absolute advantage
Experience in international (public) health is an advantage
We offer
Challenging position within an international organization that is in full swing;
Passionate and expert team with a heart for our mission;
A salary, depending on knowledge and experience, between € 5,151 and € 6,732 gross per month based on a full-time contract (38 hours is full-time);
8% holiday allowance and 4% year-end bonus on an annual basis;
Good secondary employment conditions (including a pension scheme);
An annual contract with a view to extension;
Room for personal growth and development.
Join our team!
Please respond before Friday 13 May and send your CV and motivation to vacaturesNLR@leprastichting.nl. The first meeting is scheduled for Wednesday 18 May and the second meeting on Friday 20 May. The interviews will take place at our office. For more information, please contact Karijn de Jong at Karijn.deJong@nlrinternational.org. Head of Programs a.i.
NLR strives for equal opportunities for everyone, we are looking for a candidate who will make the organization more diverse in all respect! Acquisition in response to this vacancy is not appreciated.
About NLR
NLR wants to end the age-old disease leprosy once and for all. Still every year 200.000 new leprosy patients are diagnosed worldwide, and millions of people live with the serious consequences of leprosy due to discrimination and exclusion. Unnecessary, because timely detection and treatment can prevent further infection. NLR is an international NGO that aims for a world without leprosy and its consequences. In our strategy we focus on Zero Transmission, Zero Disability and Zero Exclusion.
NLR is a strong believer in collaboration. NGOs with the same mission in Brazil, Indonesia, India, Nepal, and Mozambique are part of the NLR Alliance and are supported by our international office based in Amsterdam. As an active partner in international networks such as the Global Partnership for Zero Leprosy and the International Federation of Anti-Leprosy Associations (ILEP), together we make a significant impact towards our mission. NLR is a global forerunner in conducting and promoting leprosy research and driving evidence-based innovation.
About 40 people work in our international office in Amsterdam and 200 total globally. NLR, in the Netherlands better known as Leprastichting, is an ANBI with CBF recognition and is supported by 45,000 donors and leading institutional donors including the Nationale Postcode Loterij.
For more information visit our websites: https://nlrinternational.org and www.leprastichting.nl