Vacancy: Internship cost-effectiveness study – PEP4LEP
NLR is looking for an intern to assist in a cost-effectiveness study as part of the PEP4LEP project.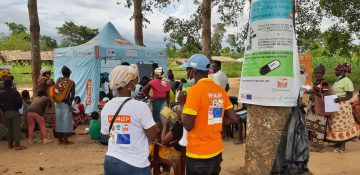 The PEP4LEP project – 'Chemoprophylaxis for leprosy: comparing the effectiveness and feasibility of a skin camp intervention to a health centre-based intervention' –  is an implementation trial that aims to identify the most effective and feasible method of screening people at risk of developing leprosy and administering preventive medication in Ethiopia, Mozambique and Tanzania. This project compares two interventions (a skin camp intervention and a health centre intervention) for screening contacts of leprosy patients. Both interventions include an integrated skin screening approach: screening takes place by looking for both common skin diseases as well as neglected tropical diseases (NTDs) manifesting with skin lesions, such as leprosy. 
The intern will assist in project management, data collection and data analysis as part of a broader cost-effectiveness study, comparing the two intervention types to identify the most cost-effective strategy in terms of preventing leprosy.  
 We welcome applications from people of all genders, all ethnic and religious groups and those with disabilities and/or affected by an NTD/skin disease. 
Profile
You are a Master's student in Health Economics, Health Policy, Global Health or another relevant programme

 
You have affinity with research

 

You are interested to learn more about project management

 

You are proficient in written and spoken English

 

You are available for a period of at least 5 months, preferably with a start date in May/June, 2023

 

Experience with/knowledge of cost-effectiveness analyses is considered an advantage 

 
We offer
Work experience with an iNGO

 

Guidance and support from an international project team

 

Training on cost-effectiveness analyses from an expert at the

Erasmus Medical Center

 

The possibility to work (partly) from home and/or in the office in Amsterdam

 
We are looking for an intern at quite a short notice. Interested? Please send your CV and motivation to vacaturesNLR@leprastichting.nl.  
For more information, please contact Anne Schoenmakers at pep4lep@nlrinternational.org