LepVax: a promising new tool to help in interrupting leprosy transmission
American Leprosy Missions (ALM) initiated the LepVax project to develop a leprosy-specific vaccine. NLR joined hands for this radical innovation. The objective is to protect contacts of leprosy patients from the disease and reduce transmission.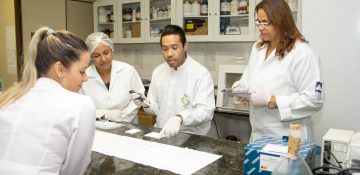 If someone is infected with leprosy, he or she may spread the bacilli for years without being aware. Although some bacteria multiply every minute, the leprosy bacillus only divides once every two weeks. This means it may take as long as 2-5 years before a person affected by leprosy develops symptoms. To stop transmission forefront approaches was needed.
This led ALM to sponsor the Infectious Disease Research Institute in Seattle, USA, to develop a leprosy-specific vaccine. It started fifteen years ago. Meanwhile, the development of the prototype vaccine has been completed and named "LepVax."
In 2018, the vaccine passed the Phase I safety studies in the USA. Field trials are expected to start in 2019. ALM has asked NLR to join hands in funding these studies to demonstrate the effectiveness of the vaccine, especially amongst contacts of leprosy patients.
Funding
The LepVax project is financed by American Leprosy Missions, NLR and other partners. Fiocruz in Rio de Janeiro supports the execution of the project.