Great progress Ready4PEP project in Nigeria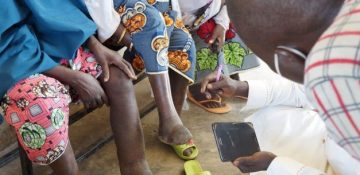 After the kick-off of the Ready4PEP project in Nigeria in July 2021, the project is progressing well in the project areas. In the preparatory phase of the project, the leprosy cases of the last three years in the project areas were identified and mapped. Currently, health staff is visiting the communities of these patients to list the close contacts of these (former) patients, as the close contacts of a person affected by leprosy (that may be family, neighbors or close friends) are at the highest risk of getting the disease. These persons are therefore screened on leprosy, also using the SkinApp, informed about the disease, and provided with SDR-PEP to prevent the disease to develop. During the screening of close contacts, many new leprosy cases were found. Although this was expected, it is a confirmation of the importance of the Ready4PEP project. It also means that the approaches used to find and screen people are successful.
Besides the PEP activities, LTR Nigeria is also working on setting up self-care groups in the project areas. Self-care groups comprise of persons affected by leprosy and lymphatic filariasis who come together with a group facilitator and group coordinator to discuss their experiences with leprosy/lymphatic filariasis, the practice of self-care and therefore, the prevention of (further) disabilities. The opportunity of meeting is also used to check the feet, hands, eyes and footwear on any irregularities that should be taken care of (see picture). Furthermore, the participants are encouraged to continue self-care in their home environment, including daily soaking, rubbing, and oiling of the hands and feet. The self-care groups are also used for lively discussions among members on their daily live, for instance, how they learned to cook meals or use attributes in their daily lives to prevent damage to their affected hands or feet.
In September 2021, LTR organized training sessions for self-care group coordinators and facilitators in the states of Bauchi and Jigawa. After a supervisory visit in November, they were happy to find a good start with the self-care group activities. Two groups were formed, who meet each other on a regular base. Although points for improvement were identified, it is a great learning experience for setting up self-care group in other states!