Innovative approaches
Thanks to recent innovations, NLR and its partners can now act before the first symptoms of the disease become visible. In this way, the chain of transmission can finally be broken, preventing the disease from damaging more lives due to disability and social exclusion. The project will use a number of innovative approaches to stop the transmission of leprosy.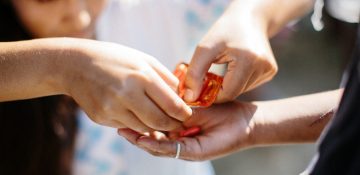 • Improved strategies for early case detection of leprosy, including context-specific community education materials to improve the perception and knowledge of leprosy and reduce stigma;
• More effective prevention of leprosy among contacts of new patients. The current regimen for post-exposure prophylaxis (PEP) of leprosy, single-dose rifampicin (SDR) reduces the risk of leprosy among contacts of new patients by 57%. We expect that three doses of the new PEP++ regimen, a combination of rifampicin/moxifloxacin for adults and rifampicin/clarithromycin for children, will be 80-90% effective;
• Identification of high-endemic clusters of leprosy through GIS-based mapping of current and recent cases;
• Blanket preventive chemotherapy in all villages and neighbourhoods where a cluster of leprosy patients has been identified.